Dr. Peter S. Jensen, M.D., founded the non-profit U.S.-based organization The REACH Institute which developed and launched the Patient-Centered Mental Health in Pediatric Primary Care (PPP) fellowship training in 2007.
In 2009, 30 primary care providers were trained in Toronto Canada, including three Calgary-based physicians, Dr. Abdul Rahman, Dr. Sam Chang and Dr. Geraldine Farrelly. There was evidence of need for this type of training program in Canada, and even more specifically in Alberta given the huge population growth (by 2030 the number of children and youth in the Calgary Zone is expected to grow by 41% to more than 139,000 children). As such, these three trained Calgary-based physicians worked to bring The REACH Institute's PPP Training Program to Calgary and Area. 
In 2014 the CanREACH initiative received funding from an anonymous donor through the Alberta Children's Hospital Foundation. Thanks to this generous donation, a 5- year local project was launched in efforts towards developing mental health literacy in primacy care by way of delivering ten-sessions of the PPP fellowship in addition to the other education, training and support services offered by CanREACH. Through this funding, between 2014 – 2019, CanREACH will be able to offer 10 cohorts of the licensed PPP training to primary care providers in Calgary and Area. The target goal is for 250 primary care providers to be trained, therefore increasing much needed access to paediatric mental health services for children in the community.
The first CanREACH PPP Mini-Fellowship commenced in the spring of 2014. CanREACH has been awarded accreditation with both The Royal College of Physicians and Surgeons of Canada and The College of Family Physicians of Canada. Since this 2014 launch, CanREACH has continued to grow and expand to meet the demand. Not only has the program been able to increase the anticipated training cohort sizes, it has also added other training components to support the literacy initiative in primary care by way of web-based modules and an extended consultation service. CanREACH has been able to extract data from the Calgary Zone that demonstrates the tremendous impact it has been making, and in 2016 this data was presented at the International Association for Child and Adolescent Psychiatry and Allied Professionals World Congress (IACAPAP) and the Canadian Academy of Child and Adolescent Psychiatry (CACAP).
In 2017 an initial paper was published in the peer reviewed journal Evidence Based Medicine, detailing the impact of this training program for both physician participants and patients alike.
The Reach institute partnership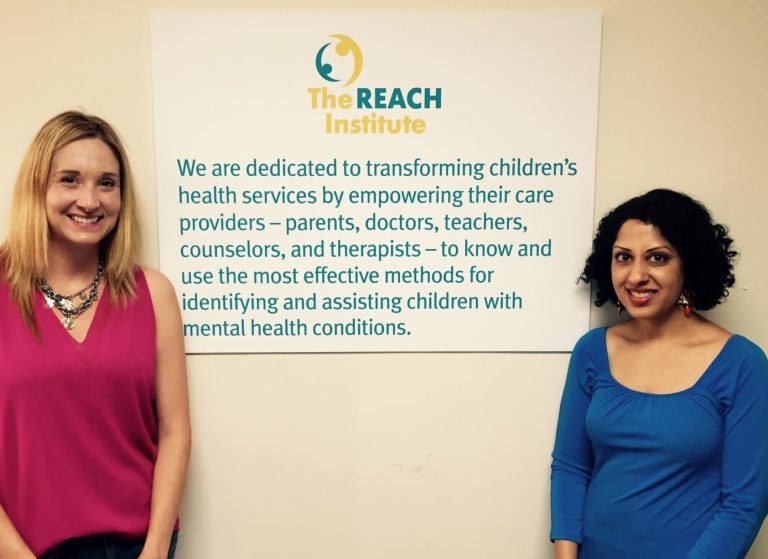 Alberta Health Services Partnership
CanREACH is one program within the greater Alberta Health Services portfolio dedicated to Child and Adolescent Mental Health and Psychiatry Programs (CAMHPP).
Under the scope of Collaborate Services and Education programs, CanREACH is seated among other fantastic programs including Continuing Professional Development (CPD), Community Education Service (CES), and Health Minds / Health Children Outreach Services (HMHC).  Learn more about all of these great programs at www.hmhc.ca. In particular, the HMHC service provides assistance through a variety of ways to Primary Care Providers in Southern Alberta assessing and treating children and youth in the areas of addictions and mental health. Primary Care Providers can access this amazing resource at any time pre-, during, post-, or outside of CanREACH by contacting them at 403-955-8446 or email hmhc@ahs.ca . 
Under the scope of Mental Health Literacy, CanREACH is seated among two excellent programs that seek to promote mental health literacy and training in the school systems. These include MORE http://hmhc.ca/more.html and SMILES http://teenmentalhealth.org/alberta
Alberta Children's Hospital Foundation Partnership
As noted, CanREACH is a donation funded program which temporary, but also allows us to offer scope of services offered at a reduced cost to primary care providers, thanks to the ACHF http://www.childrenshospital.ab.ca